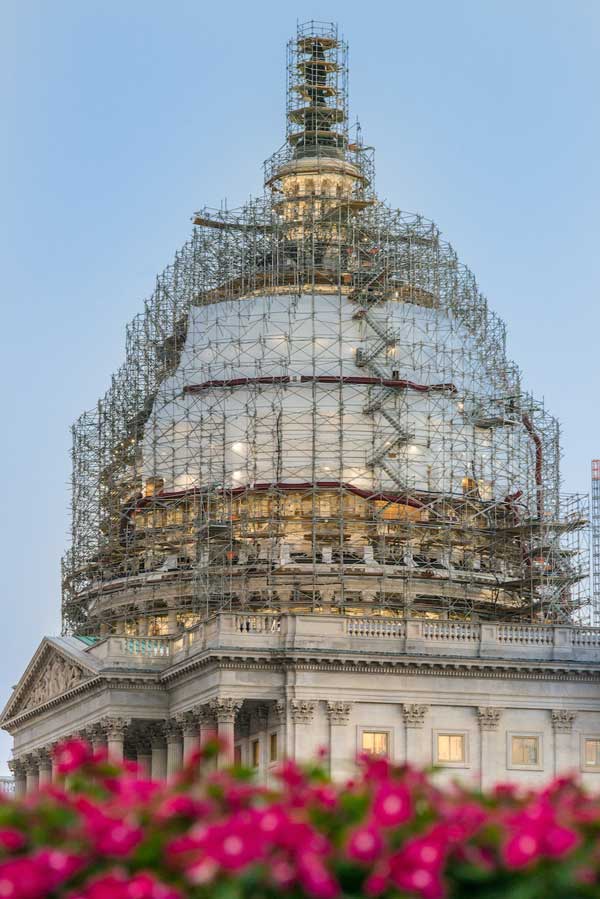 Scaffold Shrink Wrap of the US Capitol in Washington, DC on August 25, 2015.
Pro-Tect Plastics & Supply is an industry leader in scaffold shrink wrap. Learn our shrink wrap process and why our products are right for the job.
Containment for abrasives blasting jobs are becoming more common than ever and often required in projects close to any body of water. After 25 years, Pro-Tect Plastics is an industry leader in using shrink wrap for containment of scaffolding. Using Shrink-wrap as your containment choice enables the continued progress of the project through unfavorable weather by enclosing the scaffolding. Pro-Tect Plastics has examples of scaffold shrink wrap from the Golden Gate Bridge in the Bay Area to the White House in Washington D.C. In both instances shrink wrap was used as a primary containment. (Insert golden gate bridge and white house pictures here somewhere) The focus of the shrink wrap jobs was to cover the preexisting scaffold supplied by the construction crew in Washington D.C. Also, scaffold shrink wrap was used to catch any lead-based paint or abrasives from reaching the San Francisco Bay, for I don't think the fish would appreciate that.
How to Shrink Wrap Scaffolding
To begin the heat shrink wrap process, we pad off any sharp areas with scrap pieces of plastic or poly foam padding and our 2'' white heat shrink tape. Next, we put up any necessary supporting straps to help control the plastic from the wind as it's put in place. Straps could be needed about every 10'-12' feet. Keep them loose to start off with but secure two pieces together with a heavy-duty metal buckle so you can use a strap tension tool to secure the straps tight once shrink wrap is worked up between the heavy-duty strapping and scaffolding platform. To raise the Shrink-wrap up, use our heavy-duty strapping to bunny ear the plastic, and begin raising the wide or long side of the shrink wrap up between the heavy-duty strapping and the scaffolding platform.
Check our sizes or call today for help with your containment project, or if you have any questions about the shrink wrap process. Repeat these steps to raise additional rolls of shrink wrap and begin the welding method. Shrink wrap roll by shrink wrap roll weld them together using 6'' to 8'' inches of overlap. Use a heavy duty spray adhesive to temporarily tack together the overlapping pieces and use 4'' heat shrink tape where necessary to keep overlapping shrink wrap edges together. Next, begin using your 998 Shrinkfast heat gun to insert flame between the layers and begin the heat seaming process. Go along the two overlapping edges of shrink wrap and heat the two layers together and using a welding glove on your other hand to gently pat the two pieces together creating one.
Why Choose Pro-Tect Plastics
After more than two decades of helping our customers fulfill their protection requirements, we understand the questions and concerns that arise throughout the shrink wrap process and are ready to answer them. Once the variables of size, duration, mobility and accessibility are understood, our team is able to recommend the proper scaffold shrink wrap application method to meet those requirements.
Get a Quote
Pro-Tect Plastic and Supply is ready to quote your job and answer any questions you have about heat shrink wrap. By emailing pro-tect@pro-tect.net, or calling 1-800-889 WRAP and including any specifications or drawings as well as pictures to help us understand your project. If there's one thing we understand, it's that every single job is different, and the only dumb question is the one that's left un-asked.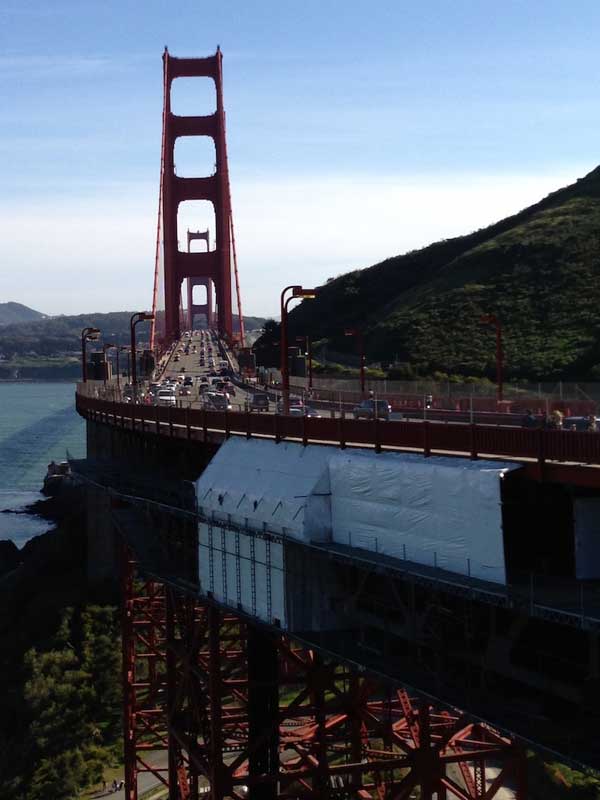 Scaffold Shrink Wrap Process of Golden Gate Bridge