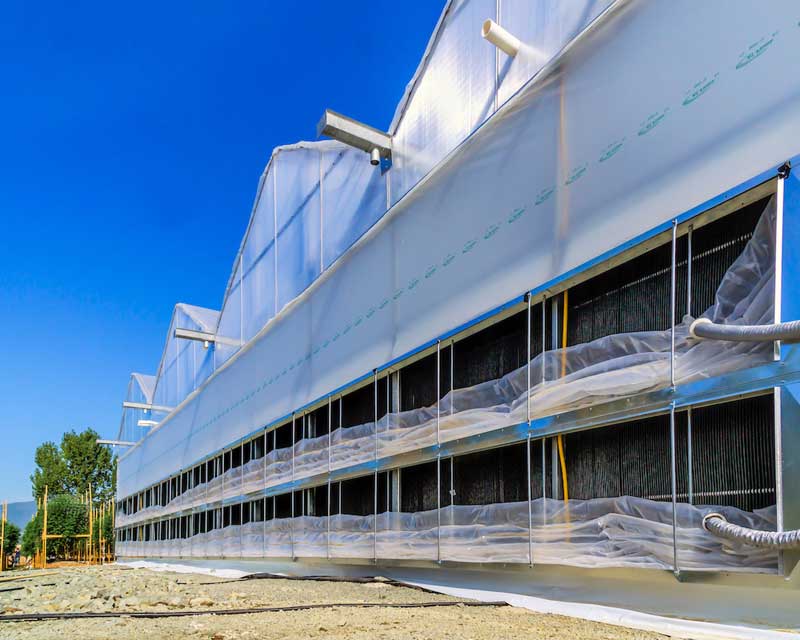 Utilized Greenhouse Poly


Utilizing these tips will help to increase the lifespan of your greenhouse plastic. Ensure maximum greenhouse longevity with quality greenhouse plastic sheeting from Pro-Tect. Check out our greenhouse plastic for sale here:

We're hitting the early season for greenhouse plastic ordering, and farmers are looking to complete their clear greenhouse plastic needs for the following grow season. Maintenance management and up to date green house plastic is key to greenhouse protection and a successful grow season. Degraded greenhouse plastic film can lead to sun spots coming down and burning your crop or overheating.

Greenhouse plastic for sale is designed to be UV and weather resistant, and under the right conditions can withstand 4 years of healthy growing. Here are 6 tips for increasing plastic greenhouse lifespan and being energy efficient. Happy growing!
Be Cool and use Dry Air to Inflate Your Double Layer Poly
When inflating your Greenhouse plastic sheeting, use air from the outside because it will help you maintain the moisture level between your plastic greenhouse layers. Also, overtime the greenhouse gases will decrease the lifespan of your 6 mil greenhouse plastic.
Air Deflectors On Your Air Inflators
Spreading out the air intake of the double layers will help increase lifespan on your green house plastic.
Space Between Layers Is Needed
Space is needed for double layer installations. You want between 4 to 8 inches of air space between the 6 mil greenhouse plastic layers. Use a manometer to make sure your air pressure is between .2 and .45 inches on a cold windy day.
Chemicals Are A Greenhouse Poly Killer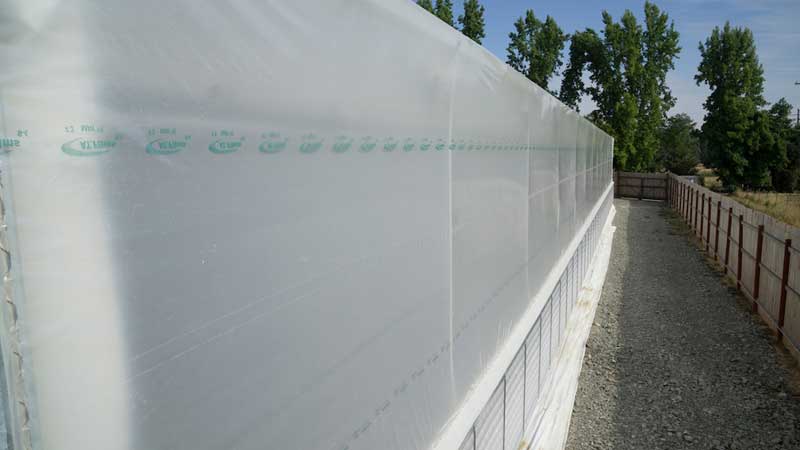 Greenhouse Poly Film



A Greenhouse plastic roll is UV resistant to the deteriorating effects of the sun's harmful ultraviolet rays, but certain chemicals like sulphur and chlorine can deactivate the ultraviolet inhibitors in the poly. This shortens poly lifespan and may affect your clear greenhouse film, so keep harmful chemicals away. Beware, sulphur burners are a common source of sulphur buildup on poly surfaces. Sulphur Burners are used for disease prevention.
PVC Pipe Is Bad
PVC pipe is a bad choice with UV stabilized film and may void your poly warranty.
Reduce Heat Buildup with Latex Paint
Reduce heat buildup between greenhouse poly and your frame by applying white latex paint on your frame. By painting the frame and poly lock channels you can reduce friction and reflect excessive heat that degrades the green house plastic at high stress points. Pro-Tect Plastics has greenhouse plastic for sale in a variety of types and sizes for your convenience. Contact us today for a quote at 800-889-9727