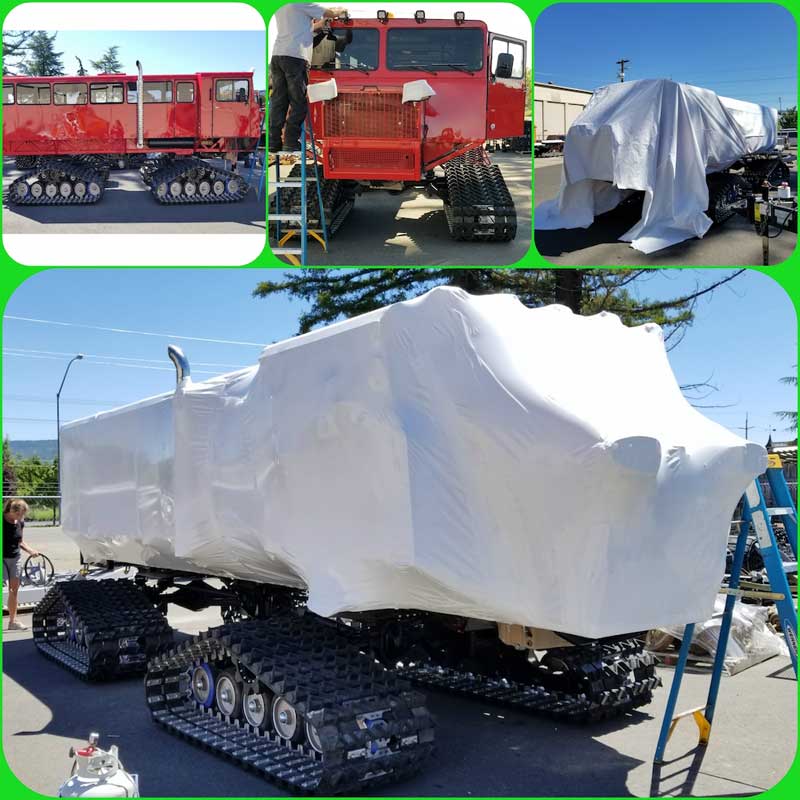 Tucker Sno-Cat Shrink Wrapped for Transport to Australia
1. Shrink Wrapping Protects Your Cargo
Heat shrink wrap is used with a multitude of mil thickness for a variety of jobs. Check out our blog on whether your using the right thickness for your job. When protecting important cargo from the elements such as wind, water and rocks, thicker mil heat shrink film is better. 7, 8 mil and 9 mil heat shrink wrap is most popular when transporting. The quality is important, like with anything, so make sure your heat shrink wrap is made right here in America with virgin polyethylene. Virgin polyethylene heat shrink plastic is important because it will be free of impurities and doesn't contain holes or recycled materials that will compromise the integrity of the heatshrink film. Pro-Tect has a flame retardant film in 9 & 12 mil thickness as well as UV inhibitors to help its storage life last for years in the sun. We also have a complementary ethylene-vinyl acetate, EVA, additive to help with cold freezer like conditions. The EVA additive was originally used in freezer bags to prevent cracking. This ensures your heat shrink plastic job lasts through harsh winters.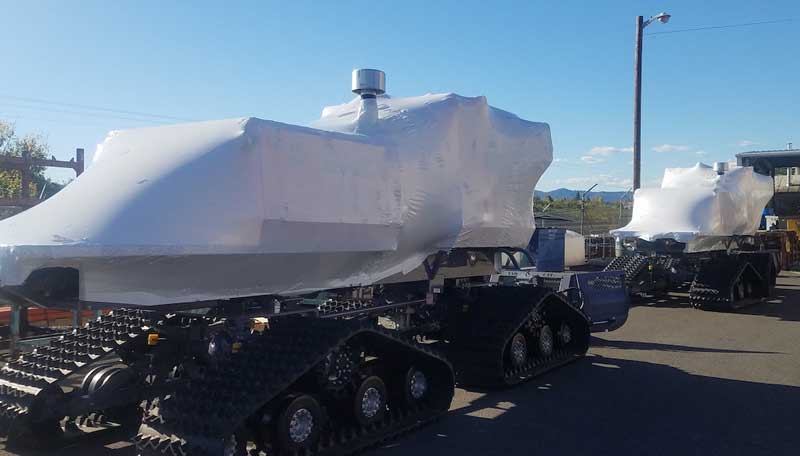 Two Drive-able Shrink Wrapped Tucker Sno-Cats Shipping to Japan
2. Anything can be Wrapped
Have you ever seen an eighteen wheeler truck carrying a giant object wrapped in tight white plastic? That's our heat shrink film! We shrink wrap everything from giant snow machines to air crane helicopters. Just about anything can be wrapped in heat shrink films. Most commonly, heat shrink films are used for boats to store for the winter or transportation. Pro-Tect has a variety of sizes, so you can always get the right size for your project.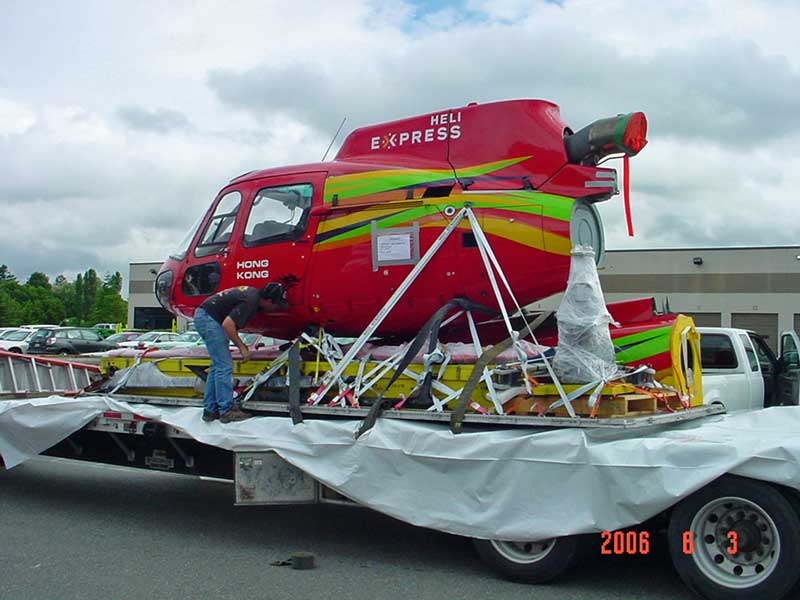 Helicopter Before Heat Shrink Wrap
3. Bad Weather? No Problem
Pro-Tect's heat shrink wrap is not affected by bad weather because it was made for bad weather! Your precious shrink wrapped cargo can go on long trips by road or sea, winter or summer without the heatshrink plastic breaking down. Small holes can easily be fixed by our heat shrink tape, and large holes can be fixed with leftover pieces of shrink wrap plastic. Use our heat seaming and welding process on our "How To" video. Contact me via email to gain access, austin@pro-tect.net.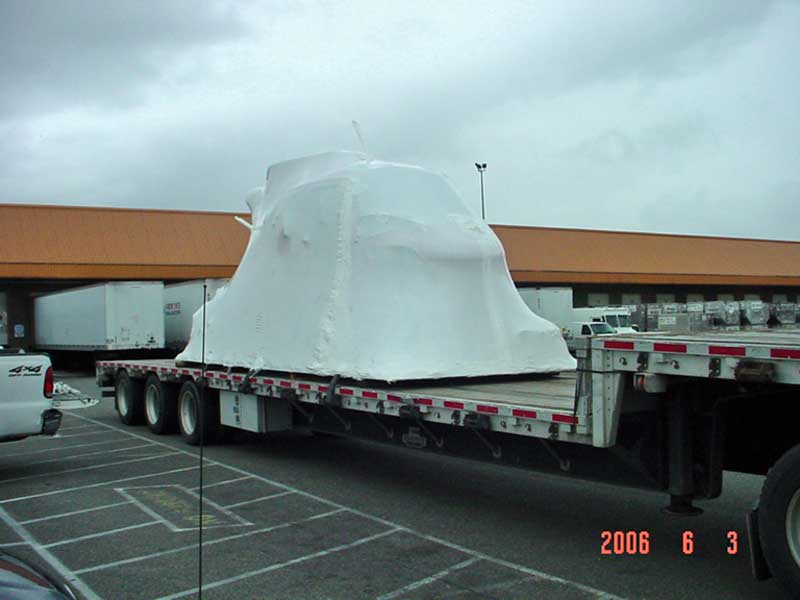 Helicopter After Heat Shrink Wrap
4. Simplicity is Key
The heat shrink films process is not complicated. If this is your first time, email me at austin@pro-tect.net to get started with a "How To" video to find the right mil thickness and roll size as well as accessories to be successful in the heat shrinking process. Also you can check out Shrink Wrap: The Easy Way for more pro tips. Or call 1-800-889-WRAP to talk to a professional now for more tips on shrink wrap. Remember the only bad question is the one left un-asked.