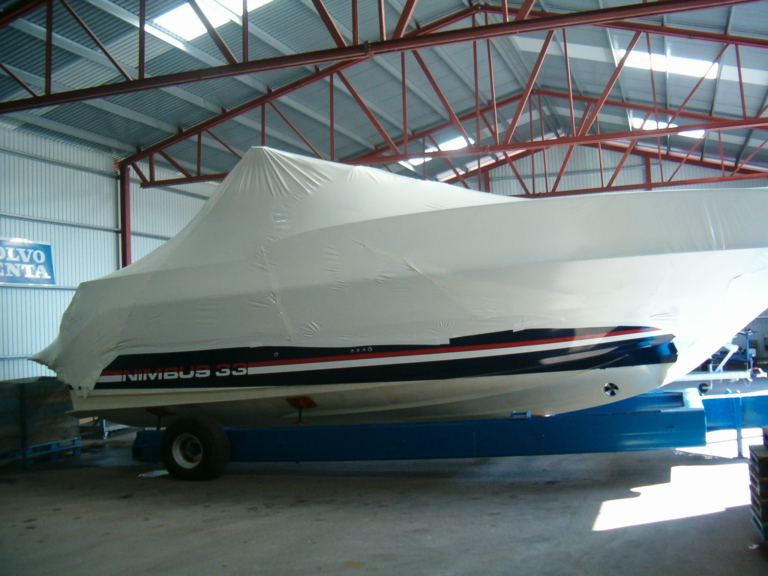 Do You Need a Winter Boat Cover?
All boats benefit from boat storage covers in winter, no matter the climate. The first line of defense against weather, animals, plants, mildew, and debris is a winter boat cover. We all love the snow white tranquility of winter, but your boat interior does not. It will become a breeding ground for smelly mold and mildew unless you cover it properly. Think that duck pair is super cute? You may feel differently after they live inside your boat and take care of all of their business all over your upholstery. Keep ducks, rodents, and the elements out so your boat stays fresh, clean, and undamaged.
There are many benefits to using a winter boat cover, including:
Protecting your boat from becoming a shelter for nesting birds and animals.
Keeping your interior free from bird droppings, dirt, and other debris.
Eliminating damage from winter weather like rain, snow, wind, and sleet.

Different Types of Winter Boat Covers
There are three basic types of winter boat covers. Some are standard-sized boat covers and others have a custom fit. Let's look at the differences between plastic, canvas, and shrink wrap winter boat covers.
Plastic Winter Boat Covers
The least expensive type of winter boat cover is plastic. In addition to cost, another advantage to choosing this type of cover is the availability. Plastic boat covers can be found at major online retailers with quick delivery.

If you buy a plastic boat cover, be sure to look for marine-grade plastic with UV protection. If your cover does not have these basic features, you may as well wrap it up in trash bags.

Plastic boat covers come in standard sizes. As a result, they don't fit snugly. This leaves your boat susceptible to wind, water, and animal damage. In fact, a strong wind can easily tear up or even remove a plastic winter boat cover.

Remember, you are trying to protect your investment. Cost matters, but this less expensive option may cost you more in repairs and damage in the long run.
Canvas Custom Winter Boat Covers
Canvas boat covers for winter storage are a big step up from plastic. You can find many standard-sized canvas boat covers but those do not perform as well as a custom canvas winter boat cover. Custom canvas boat covers are made to fit your boat's unique design. There will be less gaps for critters to squeeze through. Wind will have a harder time lifting the cover up and off your boat.

Also, canvas boat covers are much stronger than their plastic counterparts. They provide better waterproofing and stand up to falling debris. However, canvas boat covers do require you to apply waterproofing sealant every few seasons. Just like tents, the waterproofing fails over time. Sun can also break down the fibers in canvas covers, weakening the cover over time.

A Note About the Color of Canvas Boat Covers: Canvas boat covers come in a variety of colors. Although different boaters hold different opinions about this issue, some claim that color matters. It is generally believed that boaters should use black covers in super hot climates. The idea is that the temperature under the cover will be too hot for mold and mildew to grow. In milder climates, boaters believe a white cover is better. As light is reflected away, the interior is kept cooler, controlling the growth of mild and mildew. When in doubt, ask boaters in your area.
Shrink Wrap Winter Boat Cover
Shrink wrap conforms precisely to every curve and corner of your boat. There is not a single space open to animals or wind. Marine shrink wrap is specifically designed to shed water and even the heaviest snow loads. It provides the absolute best waterproofing and moisture control available. In fact shrink wrap boat covers seal so well they should be installed with vents to control the growth of unwanted mold and mildew.

Many boaters choose to have a professional provide shrink wrapping for the off season and it is widely offered at marinas. However, if you want to save that expense and enjoy doing these kinds of projects yourself, you can learn how to shrink wrap your boat. There are resources available to teach you how to do it, step-by-step.
What is a Winter Boat Cover Support System?
If you use shrink wrap to protect your boat in the off season, vents will be installed. This provides the circulation needed to prevent mold and mildew growth. If you go with a canvas cover, you should consider using a winter boat cover system.

These systems use support poles beneath the canvas. This boost prevents water from pooling and breaking down the canvas. Once the material breaks down, your carpet gets wet and mold and mildew move in! You can buy a boat cover support system or make one yourself.
What is the Best Boat Cover for Winter?
By far the best boat cover for outdoor storage in the winter is marine shrink wrap. It provides the best fit, moisture control, and protection against all of the winter elements. The professionals at Pro-Tect Plastics have all of the supplies and equipment you need to shrink wrap your boat and protect it all season long. If you don't know how to cover a boat for winter, we can help with that, too! We have a video guide that shows you every step you need to take to shrink wrap your boat. If you are ready to buy all the supplies needed we have Boat Wrap Kits for different size boats or marine equipment.

Your boat is probably one of the most treasured possessions you have. Protect your investment throughout the winter and make the arrival of spring that much sweeter and make sure your boat is ready to use and looks great.